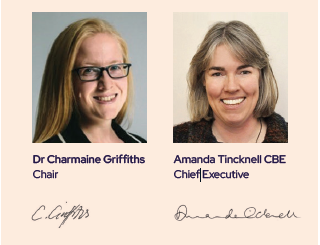 Celebrating our Impact 2021-22
Cranfield Trust's work over the last year has been against a backdrop of the later stages of the pandemic, and the growing cost of living crisis. Through these challenging times, the Trust has worked alongside hundreds of welfare charities, to support leaders and organisations as they respond to people in need.
The most notable trend of the last three years has been growing demand for leader support. In response, we have developed our mentoring offer to charity leaders, and are proud to have started over 100 new mentoring assignments in the last year, supporting individual leaders dealing with management challenges. Over the year, our staff team have spent more time than usual with charity clients, helping them to untangle the complex
issues they and their organisations face, and staying close to them as we work together, to provide all the support they need. In the year, 38% of our client organisations were charities we've worked with before, and 76% of our volunteers said that they will stay in touch with their charity clients on completing their consultancy or mentoring assignments – demonstrating the strong relationships we build with frontline charities.
A milestone in the year was the completion of our 5,000th project – working with Hearing Help Essex to develop a strategic plan. We are deeply grateful to our volunteers, who are the heart of Cranfield Trust, and who deliver all our services, and to our funders, donors, supporters, trustees and colleagues who make our work possible. Thank you.
We are proud to present our impact report for 2021-22, and look forward to continuing our work, extending and deepening our impact, and doing more for the charities which support us all.
You can download the full Impact report below.