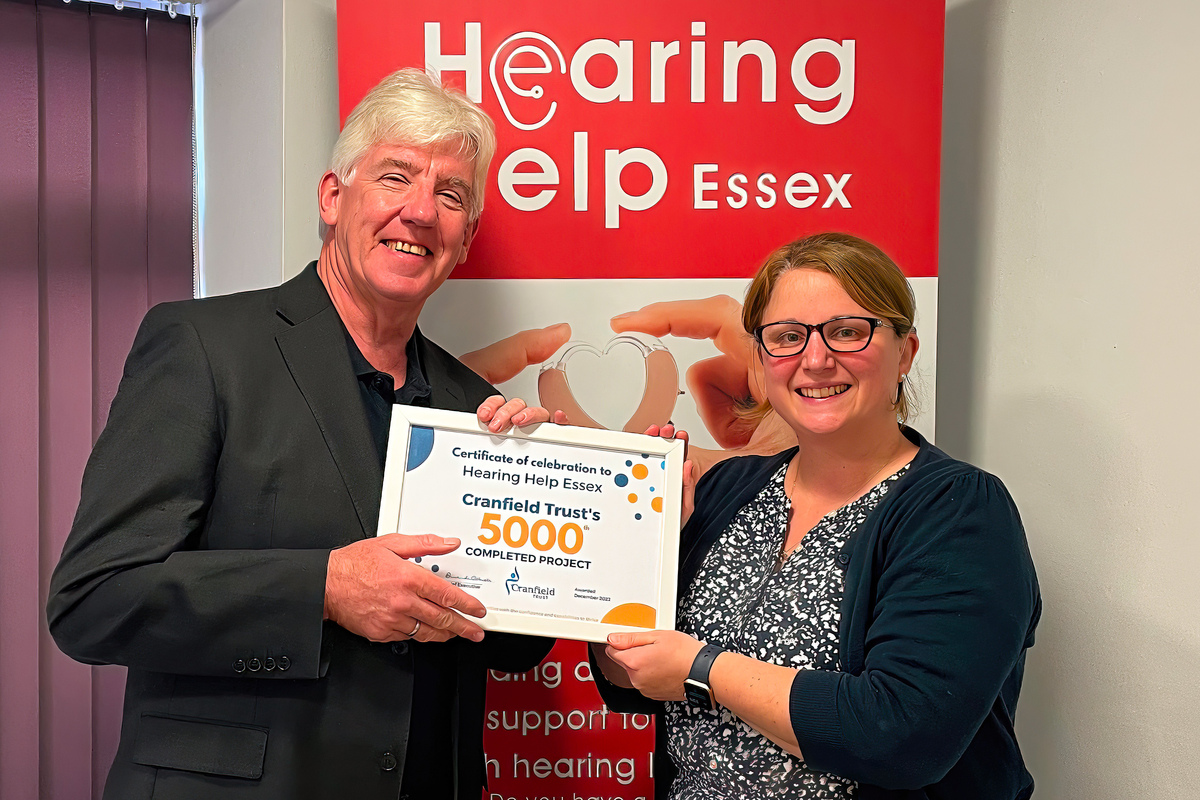 We are pleased to announce we have completed our 5,000th project, providing £33million worth of support to the third sector through the pro bono consultancy and mentoring support since it was founded.

Our 5,000th project supported Hearing Help Essex. CEO, Sophie Ede CEO of Hearing Help Essex, approached Cranfield Trust for pro bono support when the charity embarked on an ambitious growth strategy, aiming to double their services. Sophie was matched with Cranfield Trust volunteer, a recently retired HR director, to provide support in managing the planned growth. As a result of the support, Hearing Help Essex is now helping more local people who have acquired hearing loss.
The 5000th project with Hearing Help Essex is one of the projects featured in Cranfield Trust's Impact Report, which outlines the support the charity has provided to hundreds of charities during the last year. The report is available to read on www.cranfieldtrust.org

Amanda Tincknell CBE, Cranfield Trust CEO, comments on the achievement, "We are thrilled to have reached such a significant milestone for Cranfield Trust and proud to have provided pro bono support to thousands of social welfare charities across England, Scotland and Wales over the last 33 years, working with them to sustain their vital services. This is an incredible achievement and is thanks to the dedication, determination and expertise of our volunteers and staff and to our partners and funders who support our work, helping us to help hundreds of charities every year.
"With the challenges charities are facing as a result of the cost of living crisis, our support and the expertise of our volunteers has never been needed more, to help charity leaders strengthen key management skills and through mentoring, to support them personally. To see that the impact of our 5000th completed project has supported Hearing Help Essex to increase its services for beneficiaries feels even more important, when so many people need the support of charities, and charities are struggling to meet increased demands and pressures. We are here to help those charities."

CEO Sophie Ede summed up the success of the 5000th project and how it has given them the capacity and resilience to support future growth, "Our beneficiaries are already feeling the benefit of this project as we scale up our services to support more people. As a direct result of this project, we have increased our capacity and we are already reaching 36% more individuals than we were this time last year. The support from Cranfield Trust has been invaluable."

Hearing Help Essex was supported through the successful Thrive Programme, a partnership between Cranfield Trust and Essex Community Foundation to help organisations build capacity and skills in business and leadership. Organisations taking part receive a 12 month leadership development programme, plus bespoke advice and consultancy on a one-to-one basis from Cranfield Trust volunteers, funded by Essex Community Foundation.

Andy Payne Worpole, Head of Programmes at Essex Community Foundation, said: "This is a really critical time for charities, particularly smaller, grassroots organisations working in the hearts of local communities, like Hearing Help Essex.

"They need support to get through this turbulent time and we are grateful to work in partnership through our Thrive Programme with Cranfield Trust. They care about helping organisations to build capacity, become more effective and sustainable for the future."