Jan Hutchinson, Director of Programmes at the Centre for Mental Health, shares her personal insight and tips for charity's introducing a hybrid working model, and managing team wellbeing.
Background
Three months ago, my charity (Centre for Mental Health) moved to a smaller office. This was directly related to Covid-19 affecting work patterns as all our research and support staff could undertake their work from home and didn't need to commute to the office even when this was allowed.
Staff have settled into a daily routine and most prefer remote working: no early morning starts, the ability to dress comfortably, home-made lunches, and avoiding the cost of regular travel to work. But some are less enamoured, disliking the loss of delineation between work and home, or not having space for an office chair and desk in their flat, or parent's home.

We have committed to providing an office space for anyone who prefers to come in, and we regularly ask staff about their wellbeing, particularly in relation to remote and hybrid working. We have learned something about how individuals like to work, and about the challenges of working remotely.
Authors and artists are happy to write their own book or paint their own picture, but we know our staff joined a team of people working together to make a difference. We curated a complementary group of people who work better in being a group than being alone.

These are the ten things I have learned about remote working and how to support the wellbeing of our staff:
1. Offer individual support
Some have needed an increased frequency of one-to-one sessions, or different meetings for different needs, i.e. work focussed discussions, and separate informal meetings to improve wellbeing through friendship and discussing shared interests.
2. Connect with people in ways to suit them
This may be on zoom but could be by phone, which allows us to get out into the fresh air while speaking to colleagues. Some people like the informality of MS Teams chats, but some boundaries might be required to prevent too much disruption of other meetings or focussed work.
3. Be flexible about working hours
Our employees decide for themselves when they will start and finish work and flex their work around other activities, such as walking the dog, collecting children from school or taking a yoga class. People will find the times of day when they are most productive, and consequently, their work is of excellent quality.
4. Accept the financial cost of supporting wellbeing
We give everyone one 'Green Hour' per week out of their paid hours (pro rata for p/t). This time is for a wellbeing activity, such as a walk, coffee with a friend, a sports activity or some self-care. Our annual leave is also generous because paid time off a highly rated benefit and supports staff retention.
5. Be agile in communicating
It takes some time to arrange a group meeting in the same physical space, but a quick 15-minute virtual meeting popped into several people's diaries is often both an interesting break from solo work and the means to make swift decisions and move a project along.
6. Ensure staff are using good equipment
I recently heard of an organisation that required people to use their own devices at home, linking remotely to their office computer, which was frustrating for someone whose personal laptop was old and slow. Providing everyone with a high specification work laptop, and separate keyboard, mouse and possibly second screen has been an entirely worthwhile investment and has made it possible for us to lose our bulky tower PCs and downsize our office space, thereby achieving a saving on rent.
7. Arrange something positive as a motivator
We are planning an exciting residential staff conference for the Autumn with free time for staff to rebuild those personal relationships which fuel our teamwork. Those who are fed up with the isolation of home working are particularly happy to see that we understand their need to re-engage with colleagues.
8. Accept that hybrid meetings don't really work
Hybrid meetings combining people in the physical space with those on the end of a zoom call are largely unsatisfactory: people joining online don't feel as much a part of the meeting as those in the room, and they can't hear as well nor necessarily see who is speaking. Better to have online meetings 75-80% of the time and make the most of fewer 'face-to-face' only meetings – giving them a "be there or miss out" vibe.
9. Get people back together
Address the deficits which remote and hybrid working create. People feel the lack of communication through body language, the learning that comes from soaking in the knowledge being discussed around us and sharing food and laughter. Don't cancel meetings and social events just for convenience or as a risk averse position.
10. Lead by example
As leaders, we need to model work behaviour for our teams. Hybrid working is here, and is the future, so we must support staff to work at their best both as individuals at home, and as a team through digital and physical connection.
If staff are not spending enough time in the office to create their best work, then leaders need to be in the office, and should bring the coffee and donuts to help people regain their appreciation of the value of sitting together to work. A great place to work depends on the people who make it great, and on how we are treated by our colleagues and leaders.
Final thought
I believe that long-distance work relationships are doomed because people must spend time together and rub along to achieve a genuine understanding of each other. This will never be developed if we don't really know people, if we never see what type of shoes they like to wear or find out how they take their tea. Mine is builders' brown with no sugar, thanks.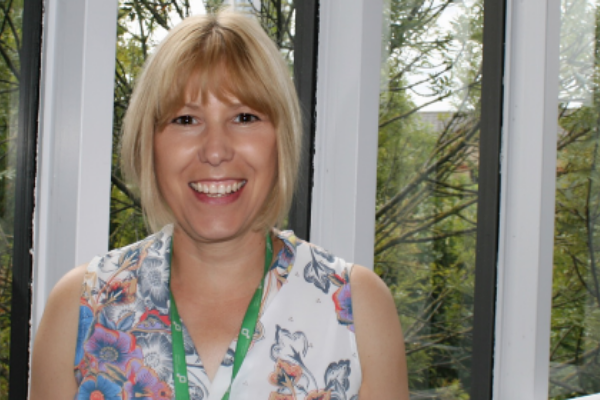 Our thanks to Cranfield Trust Volunteer, Jan Hutchinson, for sharing her personal experience of moving to a hybrid working model, and managing team wellbeing.
About the author
Jan Hutchinson joined Centre for Mental Health as Director of Programmes and Performance in 2011. Jan qualified as a social worker in 1994 and has managed a range of community mental health services in both the statutory and voluntary sector. Previously Jan was Associate Director of Social Care with South Essex Partnership University NHS Foundation Trust, having first joined the Trust in 2004 as Vocational Services Manager. She has also worked with the Royal Borough of Kingston upon Thames, Rethink Mental Illness, and Outlook Care. She served as a non-executive director with North Essex Partnership NHS Foundation Trust from 2015-2017.