Skip to main content
Following a a project with us, Moray Reach Out now have a clear business strategy and marketing plan to help increase income generation.
Background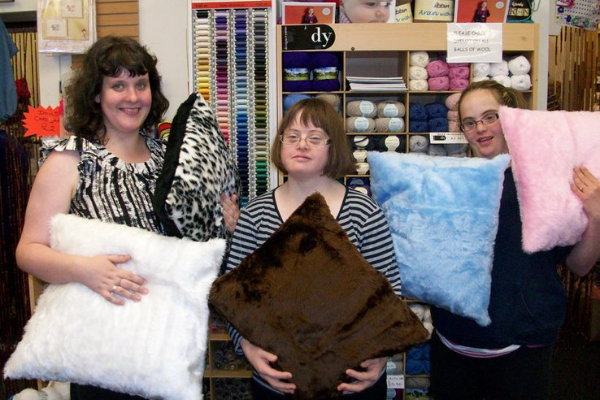 Reach Out was established in 1996 by parents and carers of adults with learning disabilities. They now have three social enterprises in Moray, each providing a valuable space for vulnerable adults to gain training and work experience and which promote a greater understanding of vulnerable adults needs.
The need/challenge/Issue
In order to keep providing placements for adults with learning difficulties, Moray Reach Out needed to increase income generation for their social enterprises. General and Business Development Manager for Moray Reach Out, Shona Radojkovic, was keen to ensure they were sustainable and less reliant on public service for income. She recognised that they could achieve this by diversifying their customer base and turned to the Cranfield Trust to support their ambition and provide mentoring support to their Graduate Trainee.
Moray Reach Our had a number of targets, including developing a marketing plan, increasing website hits, developing a blog, increasing social media engagement and identifying new commercial customers.
How we helped/Solution
Shona was matched with Cranfield Trust Volunteer Consultant, German Cancino, an expert in marketing with a wealth of commercial sector experience. Together they worked on a project brief, to help guide their journey and establish clear outcomes for both their strategy and marketing. It was decided that the first step was to have an operational review, which supported the development of a business plan, and marketing plan. Along the way, German provided mentoring to Moray Reach Out's Graduate Trainee, Shona commented how helpful this had been, "The advice we received through meeting German was inspirational to me and our Graduate trainee and simplified things for us."
the project, German helped to clarify and define what the Moray Reach Out did as part of a re-brand. Shona found the process very useful, saying, "I always found it difficult to sum up what we do, as we offer so many different training opportunities to vulnerable people. German summed it up nicely by saying what we were about was 'empowerment'. It was like a light bulb went on. That's exactly what we do and now our strapline is 'Empowering Lives' and it's so easy to describe it".
Shona continued, "As German so rightly put it from the start, we were a team and together we would achieve the new marketing message. German became part of that team to bounce our ideas off."
Impact and Outcomes
German worked with Shona and the Moray Reach Out team for 12 months. During that time a number of changes were made, both in defining the organisations overall strategy and having a joined-up approach to their marketing efforts. Shona is very pleased with the outcomes, commenting, "The changes can clearly been seen in all of our marketing materials, our Facebook page and our website. Our website traffic has increased, our trainees love the new logo and we feel much more connected as a team."
Shona found German's support invaluable, summing up her overall experience of working with the Cranfield Trust by saying, "I think that German's input, and thanks to the Cranfield Trust, had a ripple effect on the organisation. With that one word 'empowerment', we were soon creating waves! Sometimes that's all it takes, someone with the relevant experience and external to your organisation coming in and having a look, listening, understanding what you are about and then looking to see if your website and marketing materials actually get that across."
You can find out more about Moray Reach Out's work by visiting: www.morayreachout.org.uk