Skip to main content
Back in 2014, our CEO wrote a fun but thought-provoking blog about trustees. Given the scrutiny charity trustees have been under recently, we thought that Amanda's blog was more relevant than ever.
So here it is again, four years down the road but just as pertinent today as it was back then.
---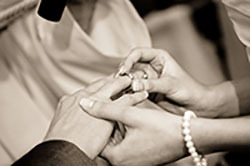 How many women looking for Mr Right have just settled for Mr Alright? It's an easy temptation, but one you can live to regret.
Trustee Boards
Many smaller and medium-sized charities have the same problem. Most of our project work involves the boards of our client charities, and our project managers comment again and again on the how difficult it is for charities to find board members with the right skills and critically, attitudes, to support their organisations.
Finding and forming a strong, effective board is a real challenge, but vital to enabling an organisation to weather storms and plan for the future. A well-functioning board needs a mix of skills – not least, from the commercial sector.
Finding Mr or Mrs Right
The right trustees can be difficult or impossible to find. Not surprisingly, therefore, boards can be over-eager to say 'yes' to the first candidate that comes along. But, like any potential betrothed, they need to ask themselves some questions first.
Are they really clear about the specific role they want the person to play?


Can they communicate the role and its requirements clearly, to make sure board candidates have a clear understanding of why they're joining?


Will their skills, expertise and personality balance those of others around the board table?


How well does the individual match up to what's needed?
This is where we often help. We support over-stretched voluntary organisations to stand back and consider their strategic needs. We work with them to identify the capabilities they're short of and then, if necessary, guide them to a trustee matchmaker.
At a time when good long-term planning is more important than ever to secure sustainability, woe betide the charity that walks up the aisle knowing in its heart that the fit is not quite what it should be. It's worth holding on for Mr or Ms Right.
---
In the past 27 years, over 3,000 charities across the UK have benefited from the Cranfield Trust's free business advice.

We provide one to one management consultancy to over 200 organisations every year and advise over 1,000 charity members on HR issues through HRNet.
Find out more about our free business services for charities.