Webinar Channel
Cranfield Trust are happy to announce the launch of our webinar channel. Here, you can view our online training sessions in the Future Focus series and watch them on demand.
Or alternatively, choose a session to view from the list below.
'Future Focus - the best way forward?' Panel Discussion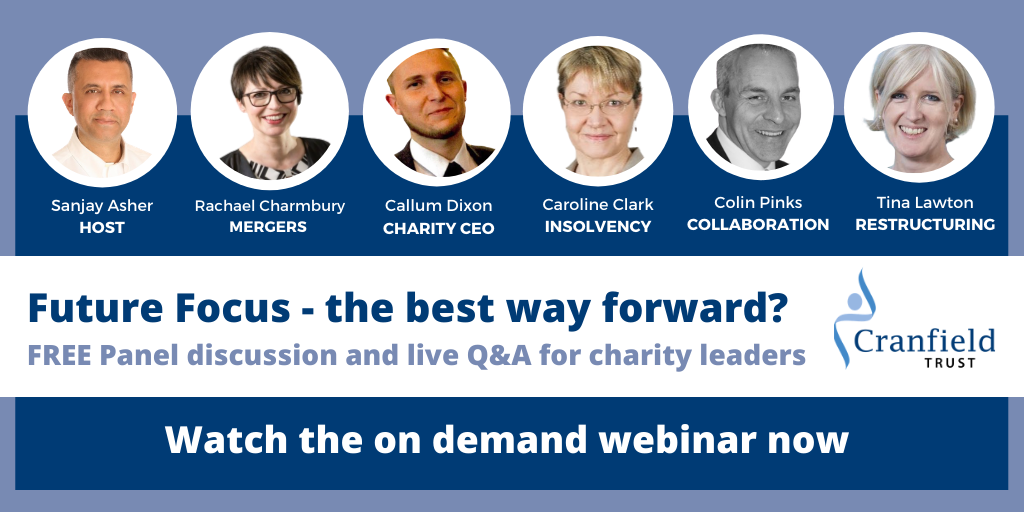 Cranfield Trust are delighted to bring together, into one virtual space, a group of experts that will introduce key topics for scenario planning as we continue on an uncertain path of service recovery. Each of our panellists will talk for 10 minutes providing a brief overview of some key routes to consider after which we will open the floor for Q&A.

We hope all delegates will leave having had an opportunity to reflect and with some ideas and options for potential next steps for their organisations whether that be greater collaboration with others through to merging or insolvency.
---
Charities Collaborating - WHY it's important NOW and HOW to make it work? with Colin Pinks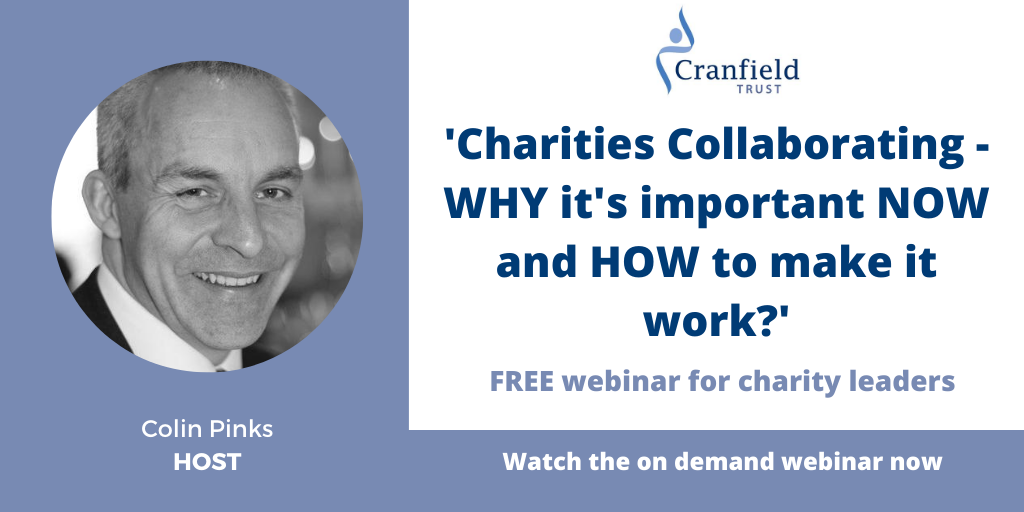 This session looks at different types of collaborations, the challenges that can be faced and, when done well, the benefits that can be achieved.
---
Re-thinking remote working: beyond zoom to efficiency, effectiveness & well being with Kirsten Edmondson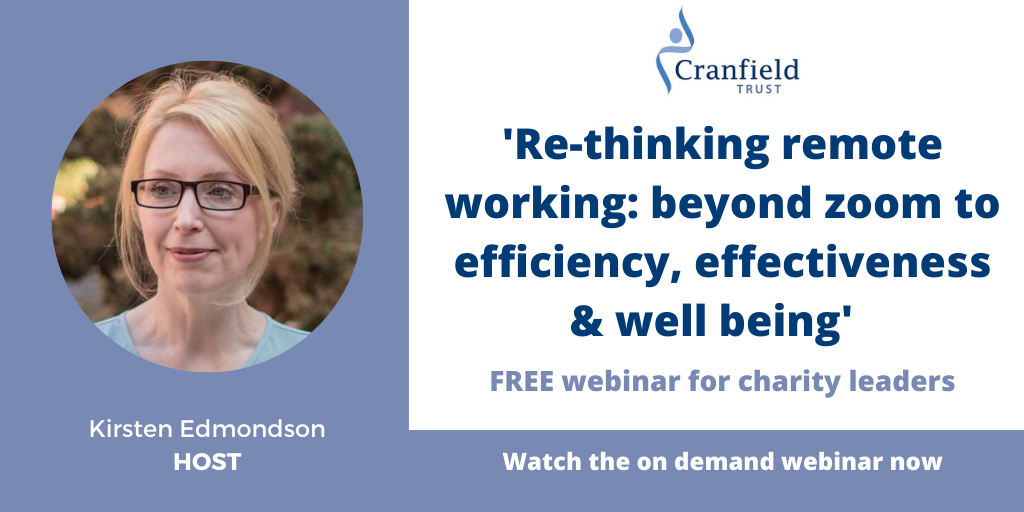 In this webinar Kirsten will take us through key considerations for working remotely. Attendees will learn how to:

Create clear objectives, develop connections and measure success
Maintain well being and life-work balance
Identify the right remote working tools for you
Kirsten in a longstanding Cranfield Trust volunteer. She is passionate about the people in the digital equation; the customers and their experiences plus the staff going through cultural and organisational change. She is an active member of various diversity and inclusion initiatives and have a particular interest in social, gender and neurodiversity inclusion in the education and the workplace.
---
Talking & walking through numbers – financial focus, cash flow forecasting, funding with Kate Masters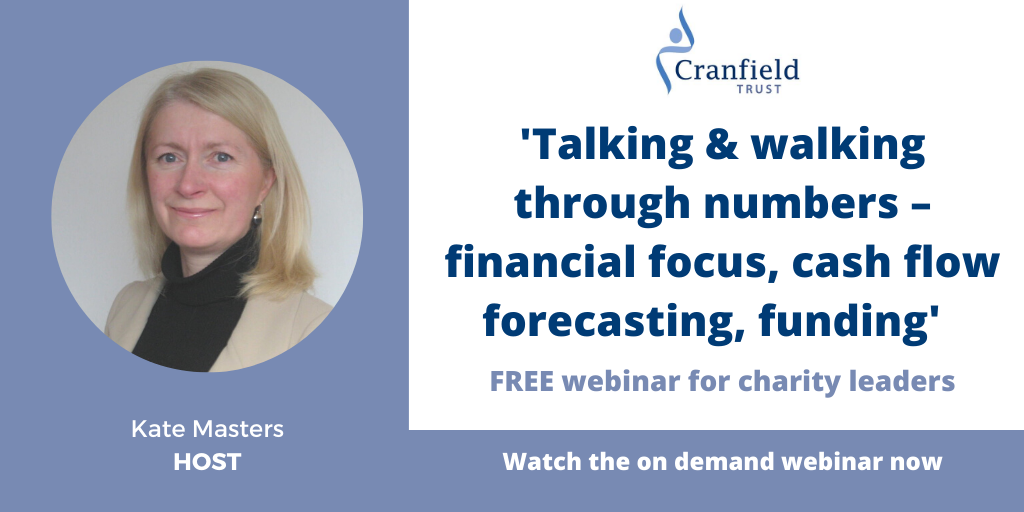 This is a financial session that will include going through what a robust cashflow model looks like, tools, packages that charities could use, tips, etc. It will briefly cover funding in the financial accounting context – where it comes from and mix – contracted, grants, enterprise, etc. Does this mix need to change to ensure sustainability?
Kate is an international, dynamic, and commercially astute Company Director and Chartered Accountant with general management and due diligence experience: Demonstrated ability to successfully lead multi-national, multi-disciplinary business project teams: highly analytical, pro-active and results-oriented. Kate is an experienced Cranfield Trust volunteer.
---
Next Steps - What does the future look like for your organisation? with Rachael Charmbury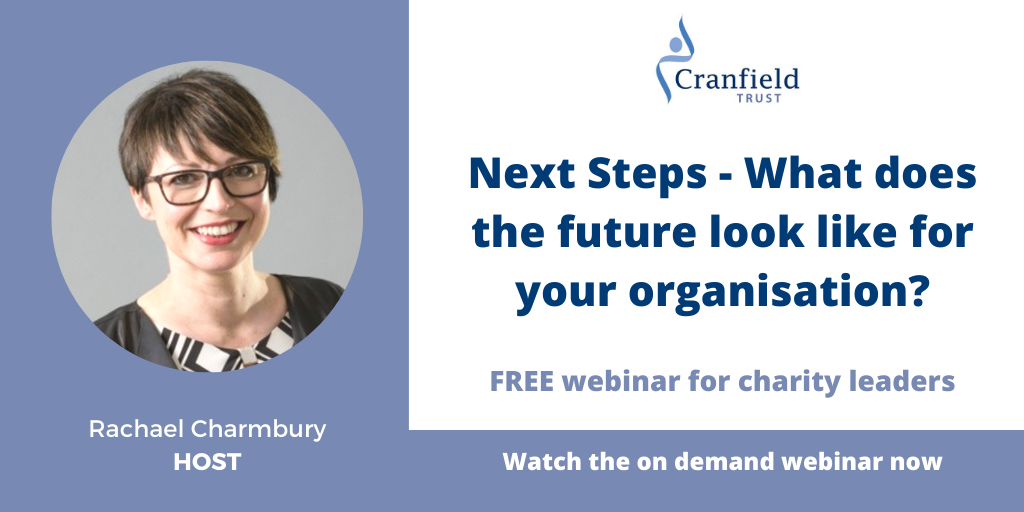 A session to allow CEOs/senior management teams to reflect and ask themselves the difficult questions and consider the next steps.
The future could be GROWTH on the back of new opportunities presented by this pandemic, BUSINESS AS USUAL, CONTRACTION, RE-STRUCTURING, MERGER, or in fact CLOSURE.
---
Learning with Leaders
Free essential webinar series for charity leaders.
Cranfield Trust is delighted to present Learning with Leaders, a series of webinars featuring guest speakers, all of whom are leading experts and practitioners within their fields. Topics for this series include leadership through turbulent times, the benefits of working with a mentor or coach after a crisis, and promoting organisational agility and innovation to navigate uncertainty.